What is an icon pack?
An icon pack is an application that replaces all your icons with customized ones. In general, they're very simple to install, and you can do that in the same way as you would any other app. The one difference, however, is that if you want to test out a few different icon packs to find your favorite, you'll want to install a launcher first to make the process easier. 
If you don't have one yet, something like Nova or Apex Launcher, can be installed from the Play Store for free. Once you've found the icons you like, you can always change your launcher, as long as they're not an integral part of it.
1. Click UI
There are many icon packs out there that look similar to Click UI, but this one has a fair claim to being one of the first to introduce icons with subtle long shadows that give them a sense of gentle motion.
The app has a super-simple icon-request tool included for any of your favorite app icons that are missing. You can also use it to set your background and lockscreen wallpapers too, though there are better apps for this.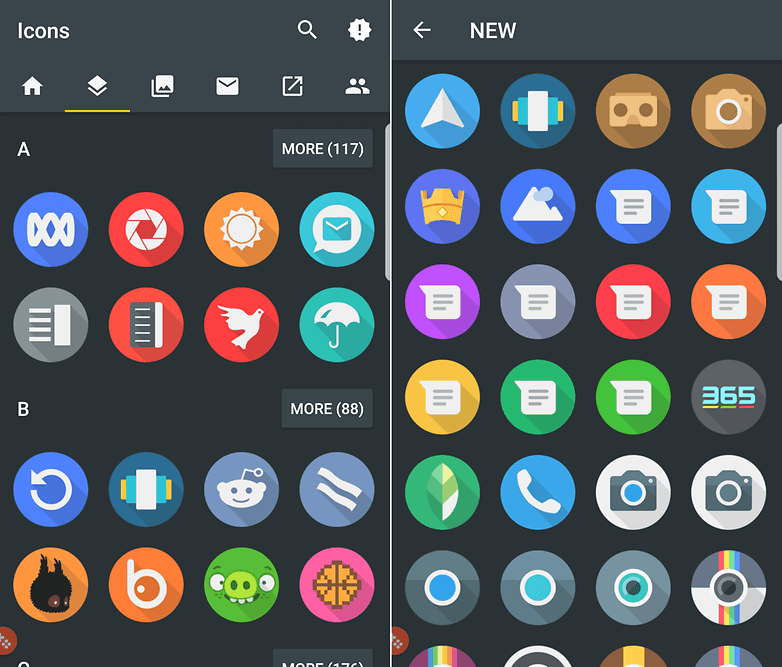 Compatible launchers: Nova, Apex, Action, Go, Solo, Trebuchet, Smart, Aviate, Next, KK, Nine, Blur, Unicon, ADW, and most others that have icon pack support. A launcher isn't essential to use this app.
Size: 12.55 MB
Price: $0.99
2. Retrorika
Bringing smooth vector graphics with a retro swing to Android, Retrorika takes material design and runs 30 years of cigarette smoke through it. Each icon brings a unique take on the original design, too; it's a passion project, with a great attention to detail, and it's for this reason that it makes it into this list.
Retrorika is one of the best icon packs for giving your device that paradoxical retro feeling but at the same time retaining a modern feel to your phone. Like some of the others here, you can also set your wallpaper with the app.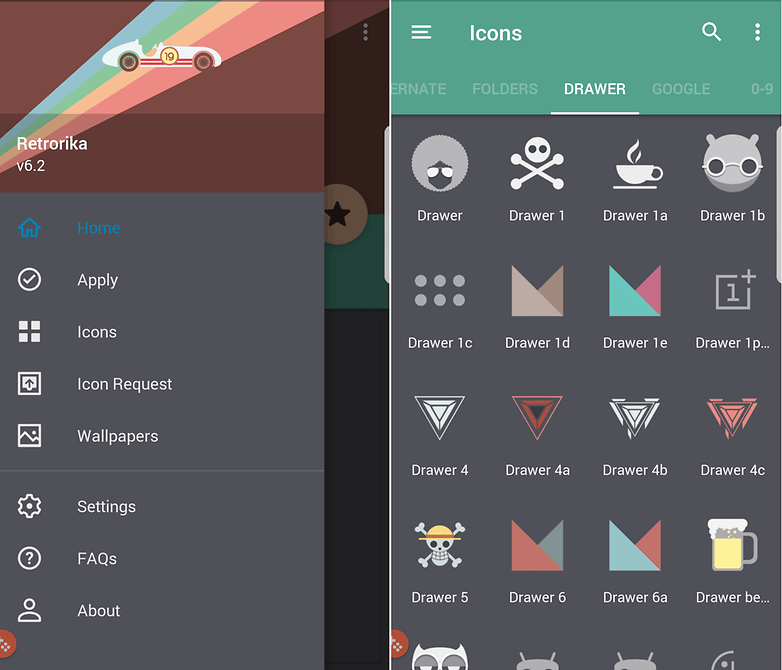 Compatible launchers: 29+ launchers, which probably includes yours too. Some functionalities don't work on certain launchers, as detailed in the app description.
Size: 23MB
Price: $0.59
3. Polycon
Polycon is the first free option in this list, but it's not just that you can get it without handing over any cash that makes it worth checking out.
If you like a mostly stock Android experience with some pizazz, Polycon's icons provide sleek, flat, colorful flourishes.
At latest count, there are over 750 icons available, and as with others, you can request any odd ones that are still missing. It's an icon pack that's not afraid to stray from set shapes, so you get nice curves and corners to keep things visually stimulating without it all appearing messy.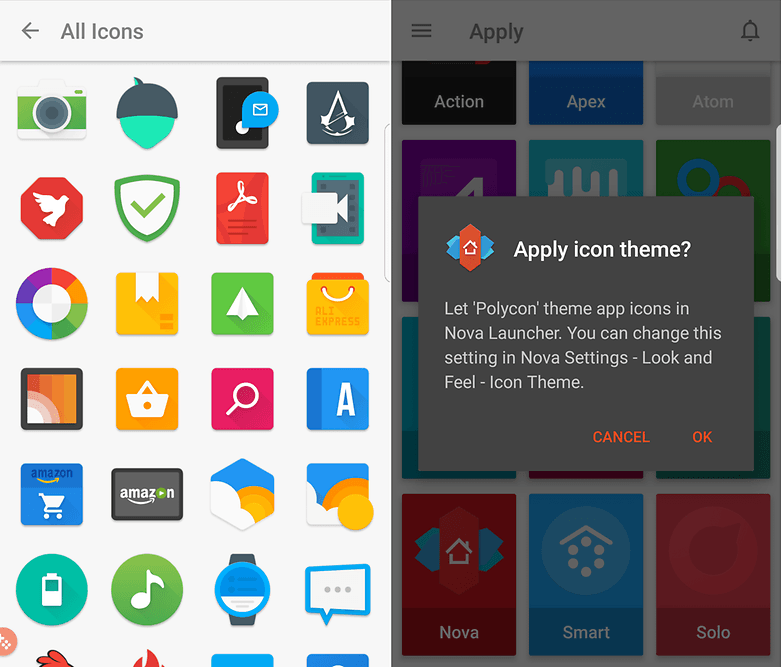 Compatible launchers: Nova, Apex, Action, Go, Solo, Trebuchet, Smart, Aviate, Next, KK, Nine, Blur, Unicon, ADW, Arrow, Xperia Home. It may work with others too that aren't 'officially' supported.
Size: 8.32 MB
Price: free, in-app purchases
4. CandyCons
Bringing Material Design icons with a little handcrafted tweak is CandyCon's forte. The pack has 1070 icons at last count, including multiple color choices for some of the more popular ones.
There's also the obligatory icon request feature on the rare occasion you don't see the icon you're looking for. It strictly sticks to the Google Material Design color schemes, and includes around 20 wallpapers. Fans of Muzei can still use that app to modify wallpapers too, which is nice. 
All you need to do, like the others that require a launcher, is navigate to the settings and hit Apply.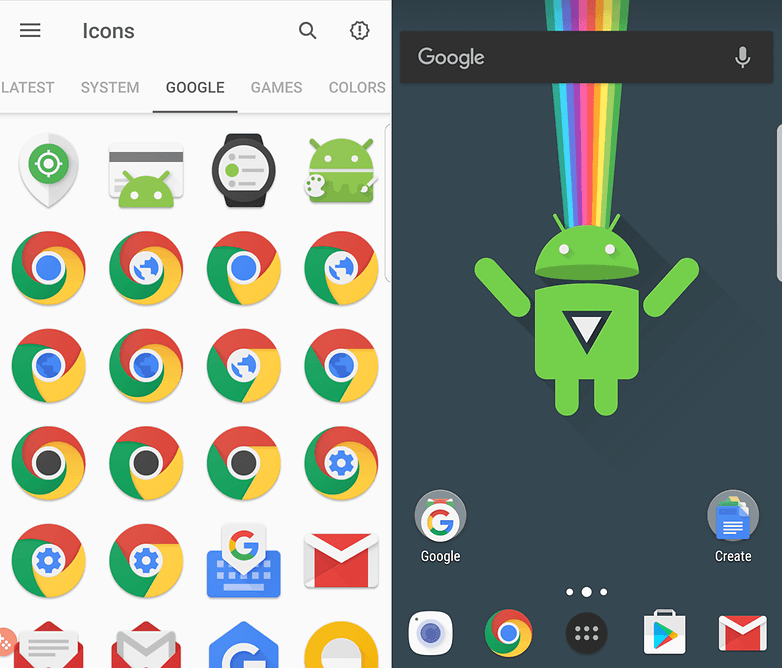 Compatible launchers: Nova, Apex, Action, ADW and many more launchers supported. Requires a launcher to work correctly.
Size: 18 MB
Price: free
5. PixBit
OK, so you want a retro feel to your icons, but you don't want vintage appeal. Got it. You should probably check out PixBit's 8-bit pixellated glory. It's made by the same developer as CandyCons above, too. 
That means that using it is just the same too – depending on which launcher you choose, long-pressing an icon should give you an option to swap it out, though all the default ones are applied as standard when you select PixBit as your icon manager in your chosen launcher.
It might not have quite as many icons for apps as some of the other options here, but there are a few pixellated backgrounds you can download to keep it all themed too, if you want.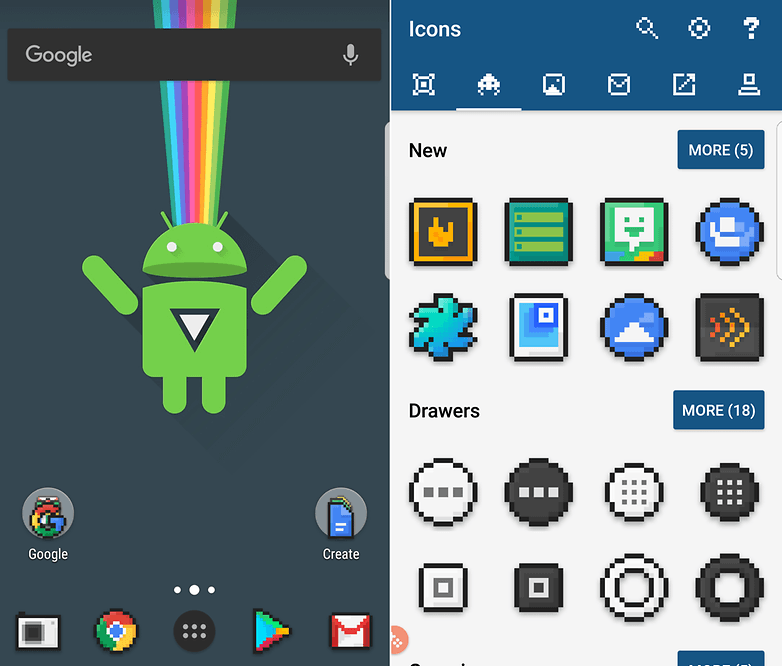 Compatible launchers: Action Launcher, Nova Launcher, Apex Launcher, Atom Launcher, Aviate Launcher, Go Launcher, KK Launcher, Next Launcher, Solo Launcher, Smart Launcher, LG Home, ADW Launcher
Size: around 4.5 MB
Price: $1.59
6. Stamped Black Icons
If you like a bit of dramatic silhouette action, the cunningly titled Stamped Black Icons' pack should be your next stop in Google Play. There are over 1,250 free icons in this pack and they work best with minimal or 'moody' wallpapers and themes.
If you're a fan of the approach, but would rather have stamped white icons, the dev has made that app for you too. How thoughtful.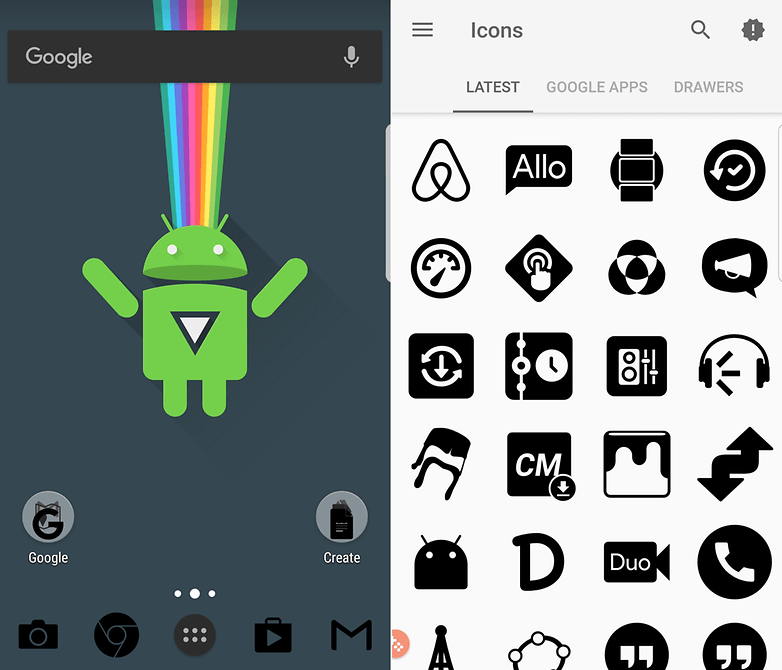 Compatible launchers: Apex, Nova, Action Launcher Pro, ADW, GO (No masking support), Lightning Launcher
Size: around 10 MB
Price: free
7. Pixel Icon Pack 
If you want the look of a Oreo-totin' Pixel phone, but don't actually want the phone itself, you can get hold of more than 2,700 icons in the Pixel icon style in one pack right here. The one catch is that it's not free, but it's still pretty cheap at less than $1.
There's a wide selection of well-designed HD icons (which is part of the reason the app is larger than some of the others) and it offers the same icon request and background features that many of the others in the app list. Going through the settings allows you to change the appearance of icons in different places.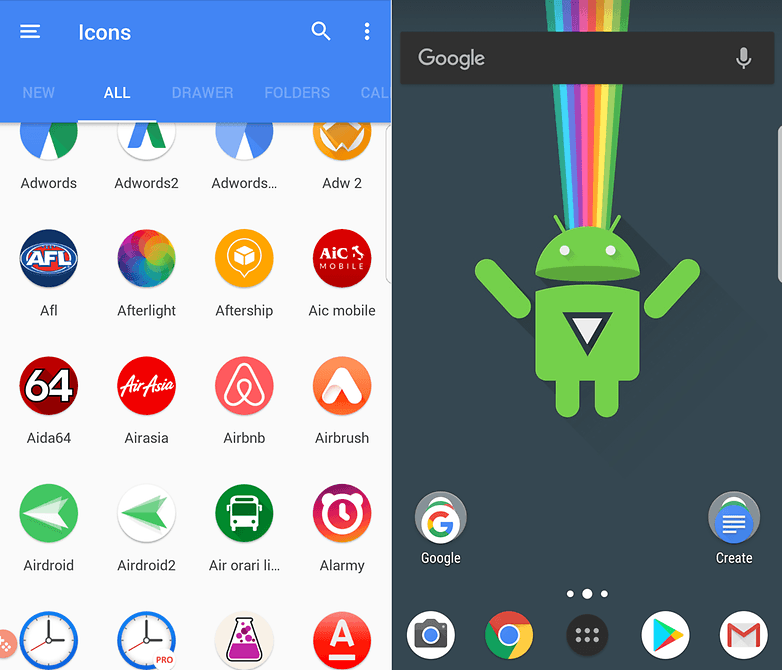 Compatible launchers:  ABC, Action, ADW, Apex, Atom, Aviate, GO, Holo, HoloHD, iTop, KK, LG Home, Lucid, M, Mini, MN, New, Next, N, Nougat, Nova, S, Smart, Solo, V, ZenUI, Zero.
Size: 32.38 MB
Price: $0.99




Pixel Icon Pack – Apex/Nova/Go


8. Min
The name says it all: Min is a minimalistic icon package that only takes its full effect if you remove the labels from the icons and choose them to displayed as monochrome.
Purists might find that Min is their desired icon package as it brings a harmonized balance to the home screen without all the flash of colorful or oversized icons. For many apps, there are specially designed icons, while others are automatically enclosed in a small circle with a white border. For those, the inner part of the circle contains a small version of the original colorful icon and gives the appearance as if you're looking through a keyhole.
Min works particularly well with a simple or plain wallpaper and is available for free on the Google Play Store. It can also be used as a standalone app, or in conjunction with launchers or other icon packs.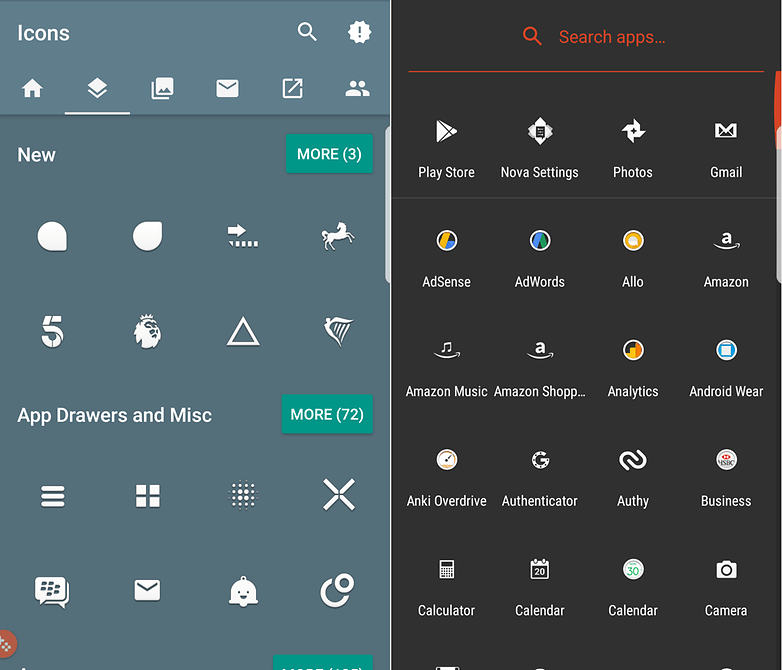 Compatible launchers: Nova, Apex, Action, Smart "and others"
Size: 8.66 MB
Price: free
9. Atran
Atran is going to be a fast-favorite for anyone that likes unified circular icons with a retro filter-like appeal. 
With more than 4,000 icons (and 30 HD wallpapers), there's plenty of value for your $1 and more are still being added all the time. You can, of course, request any that you're missing. 
If you're looking for icons with a little texture, Atran is worth paying for.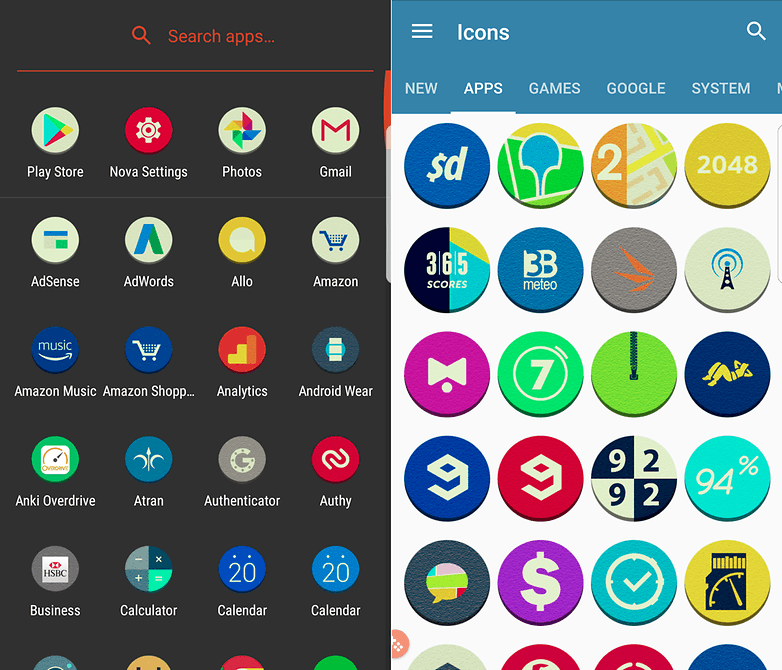 Compatible launchers: Action, Adw, AdwEX, Apex, Atom, Aviate, Everything.me, GO, Inspire, KK, Lucid, Next, Nine, Nova, Smart, Solo, TSF, CM Theme Engine, Bubble Cloud Widgets and "many more"
Size: 58.25 MB
Price: $0.99
10. Tigad Pro
This is another icon pack that's unlikely to appeal to everyone's design sensibilities, but if you've got a penchant for 3D and want a little more depth in your icons, check out Tigad Pro. 
In total, there are more than 7,800 custom-designed icons in this pack, all with a 3D design, and it supports applying them directly or via most of the most popular Android launchers. Like most of the others in this list, it provides a number of different wallpapers that work well with its icons too within the app.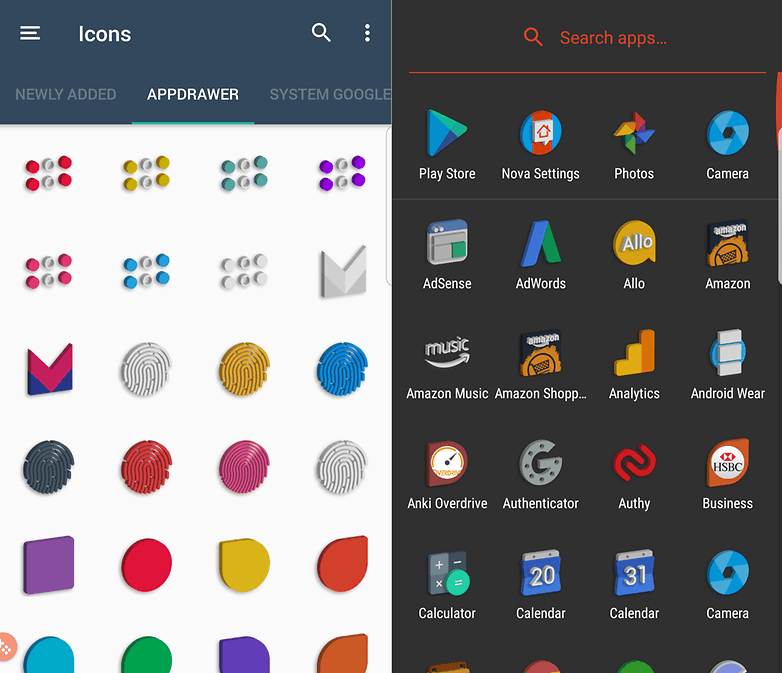 Compatible launchers: L, Lucid, GO, Next, Apex, Action Pro, Nova, ADW, Holo, Holo HD, Aviate, Smart, Mini, KK, Solo, Epic, Inspire, Nine, Atom, Nemus, S, TSF Shell, LG Home (some issues), ThemerCM Theme Engine, Launchy Widget, Trebuchet, Unicon, maybe more
Size: 74.79 MB
Price: $0.99
What's your favorite icon pack for Android? Let us know in the comments below!
Thank you have visited this post Top ten icon packs for Android: customization heaven. We wish could be additional information about technology for you
The source of this post: https://www.androidpit.com/best-icon-packs