---
Shortcuts
---
Love it or hate it, there might be a notch
XDA Developers found evidence of a display notch for the OnePlus 6 in the OxygenOS Open Beta 4 firmware based on Android 8.1 Oreo for the OnePlus 5T. The codename for the device appears to be enchilada, which matches with previous codenames like bacon and cheeseburger. XDA found an image file called screendecor_up_img_enchilada_1 which could have been used as an overlay for OnePlus engineers to test apps with a notch while a prototype was in development.
In the image below, you can see the mentions of enchilada among other device codenames in the code, as well as the shape of the notch overlay. Take the notch news with a pinch of salt though, as this might just be evidence of nothing more than a test.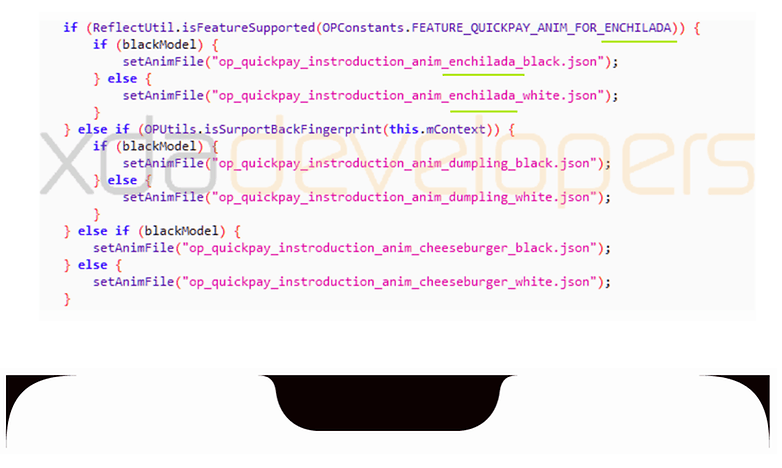 It's coming in Q2 2018, but the price is still unknown
At CES 2018, CEO Pete Lau and co-founder Carl Pei discussed the OnePlus 6, including the release date and chipset. Lau and Pei sat down with CNet's Roger Cheng for a revealing discussion concerning the Chinese manufacturers's plans for the year. Although the OnePlus 6 wasn't mentioned by name, the interview that contained some tantalizing hints about the next generation flagship killer.
While it's still too early to talk about price, Pete Lau did say that said the company would begin talks with US carriers this year. Given that the majority of US consumers obtain their phones through a carrier, striking such a deal is crucial for still-niche Chinese manufacturer to break into the mainstream.
Given the timeline, it seems unlikely that that this kind of deal would be ready in time for OnePlus' next device. More realistically, an agreement reached this year could apply to a potential OnePlus 7 in 2018. But perhaps negotiations are further along than Lau and Pei are willing to let on right now.
Huawei, another rising star from China, hit a stumbling block on their path to dominance when a highly anticipated carrier deal with AT&T for their Mate 10 Pro fell through due to pressure from the US government. Could OnePlus steal a march on their more established countrymen and secure an American carrier before Huawei?
Lau also confirmed that the next OnePlus phone could arrive late in the second quarter of 2018 (so, around June), in line with the OnePlus 5's release date last year. As for a potential OnePlus 6T, Lau stated that he was "not 100% sure" if OnePlus would release a second phone in 2018.
One might recall that last year, OnePlus kept us guessing about the 5T until almost the last minute. However, according to a leaked list of smartphones scheduled to carry the Snapdragon 845, both the OnePlus 6 and OnePlus 6T are scheduled for release with Qualcomm's new chipset.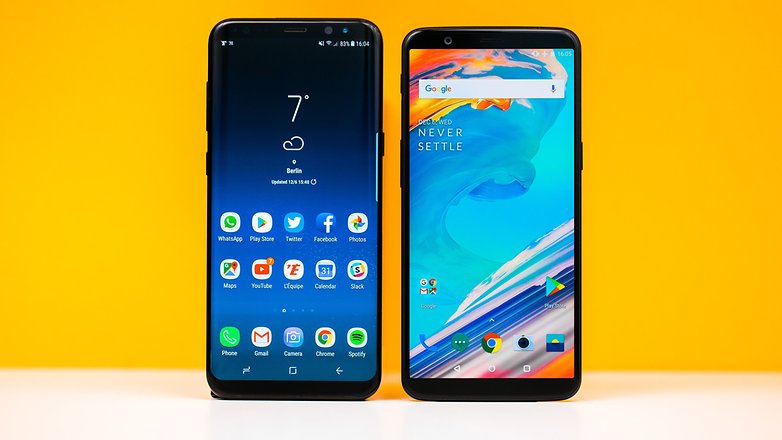 Given OnePlus' history, a OnePlus 6T in 2018 is almost certain.
What do you think?
---
Leaked prototype photos surface
Chinese website ITHome has just published what appear to be leaked hands-on photographs of a OnePlus 6 prototype. The back and front of the device are shown, and the front shot reveals the About phone page of the Settings menu along with an iPhone X inspired notch in the nearly bezel-free display.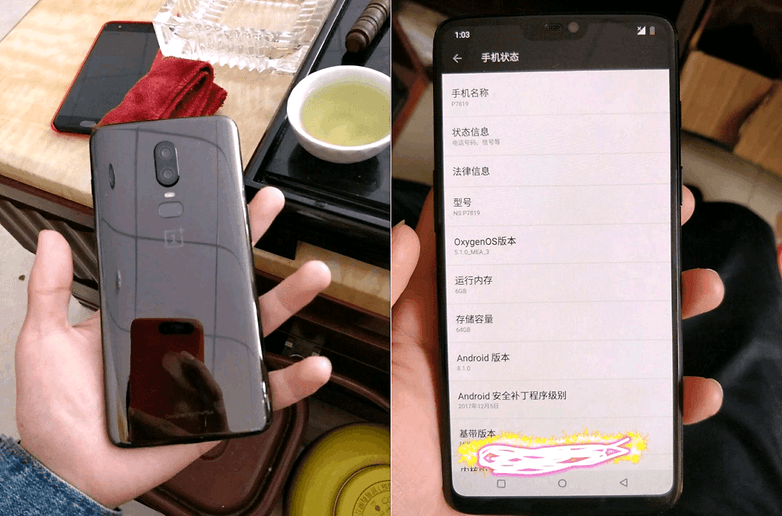 The photos show a dual camera with a fingerprint scanner below it and a glass back (perhaps for wireless charging).  As always, take the leak with a pinch of salt. Even if it's real, prototypes don't always represent how the final device will turn out.
---
It's coming with a Snapdragon 845 processor
According to Pete Lau, the company has "no choice" but to use the Snapdragon 845 SoC. This appears to confirm the validity of the aforementioned list, unless the production schedule is somehow disrupted.
Interestingly, the OnePlus bosses won't be touting artificial intelligence a major selling point for their next Snapdragon 845-powered phone. According to Lau, AI has "become a buzzword" with little to offer that the average user can appreciate. Given how much of a hot topic AI has become in the mobile world, that's an interesting take from the Chinese up-and-comers.
It will have Android 8.1
A photo leak from ITHome showed a device with the model number P7819. It's running OxygenOS 5.1.0_MEA_3, which is based on Android 8.1.0 Oreo, along with a December 2017 security patch. The device in question has 6 GB RAM and 64 GB internal storage.
Benchmark screenshots leaked confirming the notch
Android Central has just published two screenshots of AnTuTu benchmark scores supposedly from a OnePlus 6 device which came from "a source close to OnePlus". The benchmark shows an overall score of 276,510, beating the top score of the upcoming Mi Mix 2S. Plus the CPU score means it's all but confirmed to come with a Snapdragon 845 processor.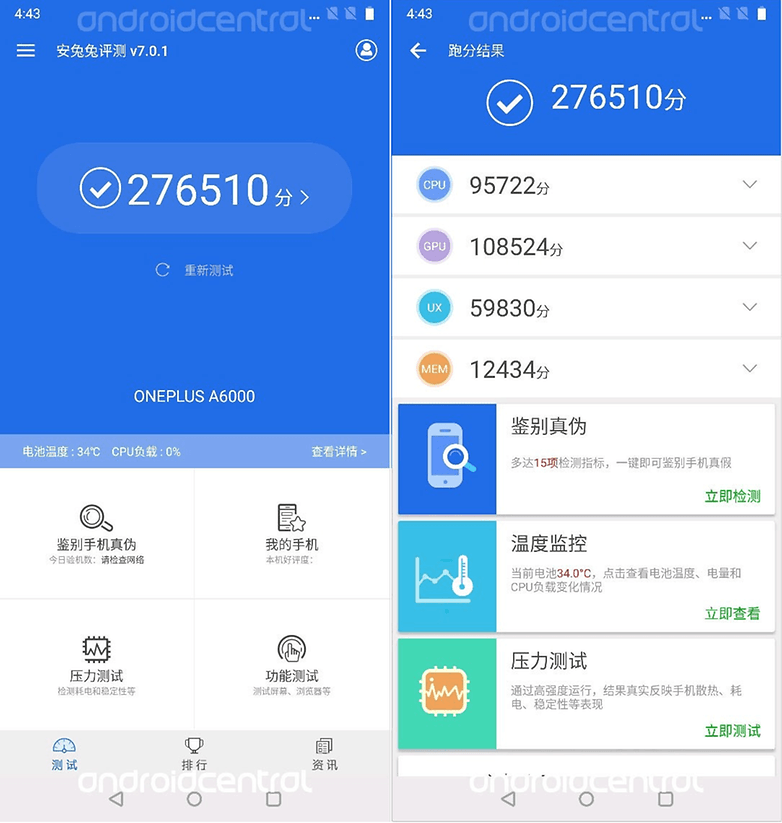 What's really interesting about these screenshots is the status bar at the top. You'll see that the time is nestled on the left, while all the icons are pushed to the right. This is exactly the same configuration that was shown on the live photos that were recently leaked, meaning the presence of the notch has been corroborated, for better or for worse.
---
While OnePlus has enjoyed record sales in 2017, their rise to prominence has also been dogged with some embarrassments, including multiple discoveries of hidden software in their OS which harvested unreasonable amount of data from their users without explicit permission. Nonetheless for many users, including our own readers, the attractive pricing and premium features of the OnePlus phones outweigh concerns about privacy, and the OnePlus 5T was the fastest- and best-selling device in the company's history. OnePlus has followed up on its success by releasing special limited editions of the flagship killer, including a Star Wars edition and the new Sandstone White edition.
Choose "Galaxy S8+" or "OnePlus 5T".
Oops! Seems like something went wrong. Reloading might help.

Galaxy S8+

Oops! Seems like something went wrong. Reloading might help.

OnePlus 5T
Are you looking forward to the OnePlus 6? What features do you expect from it?
Thank you have visited this post OnePlus 6: OxygenOS firmware hints at a display notch. We wish could be additional information about technology for you
The source of this post: https://www.androidpit.com/oneplus-6-price-release-date-specs-features