Best free Android strategy games
Clash Royale
Clash Royale comes from the creators of the ever-popular Clash of Clans, and it's sure to steal more hours from your life. It plays something like a cross between a MOBA and a tower-defense title, and it's a highly addictive concept.
In Clash Royale, you take part in one-on-one battles with other players from around the world. You must throw down troops to destroy three of your opponents towers before they do the same to you. However, these towers are only accessible via two lanes which your army must travel along.
The majority of Clash Royale's gameplay revolves around trying to use resources effectively. Each creature has their own unique strengths and weaknesses, so it's your job to pick the right guys for the job and make sure your opponent doesn't outmatch you.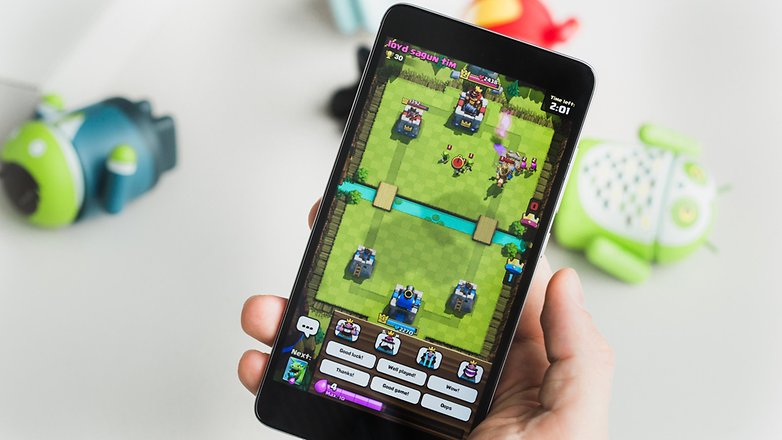 Plague Inc.
Hopefully, you've never dreamed of creating a virus to exterminate humanity. Nevertheless, Plague Inc. combines the 'strategy' and 'post-apocalypse' genres. In this game, you must try to infect the world's population with a deadly virus, choosing from among the 12 accessible types. Moreover, the game is equipped with an artificial intelligence that will challenge your efforts.
Plague Inc.

Best free Android FPS and third-person shooter games
SHADOWGUN: DeadZone
SHADOWGUN is the best multi-player shooter on Android, and will push powerful Android devices to the limit because of its demanding graphics. There are several classic shooter modes, including Deathmatch, and the Battlefield–style Zone Control. There is also an easy-to-use multiplayer voice chat, to help you better coordinate your team – or yell insults at your enemy.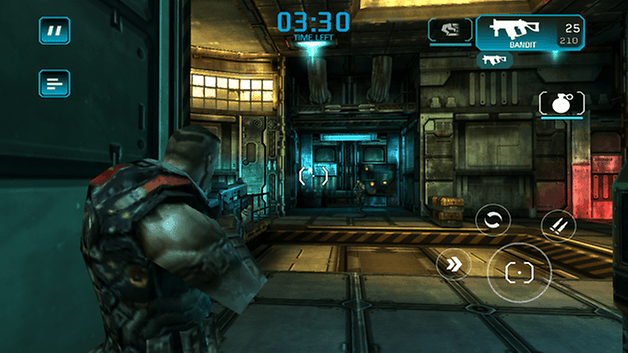 Best free Android puzzle games
Angry Birds 2
After what seems like endless variations on the original, Roxio is back with a whole new iteration of Angry Birds. The game itself is free, but it's attracted some controversy over its approach to in-app purchases: while some reviews say the game is a hoot even in its free incarnation, others say that Roxio is more interested in making you pay than having you play. We'd love to know what you think.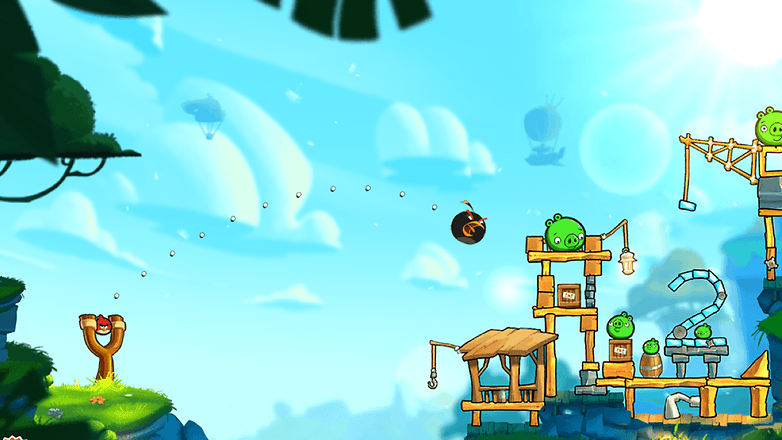 Crossy Road
Falling somewhere between Frogger and infinity runners Temple Run and Subway Surfers, Crossy Road is a cute game that's great for quick-fix sessions. So great, in fact, that it won a Best quickplay game award at the International Mobile Gaming Awards.
The longer you survive, the more gold you earn, which allows you to unlock new characters to traverse the endless 3D pixel-blocky world. It's old-school and new-school, charming and challenging, and we love it.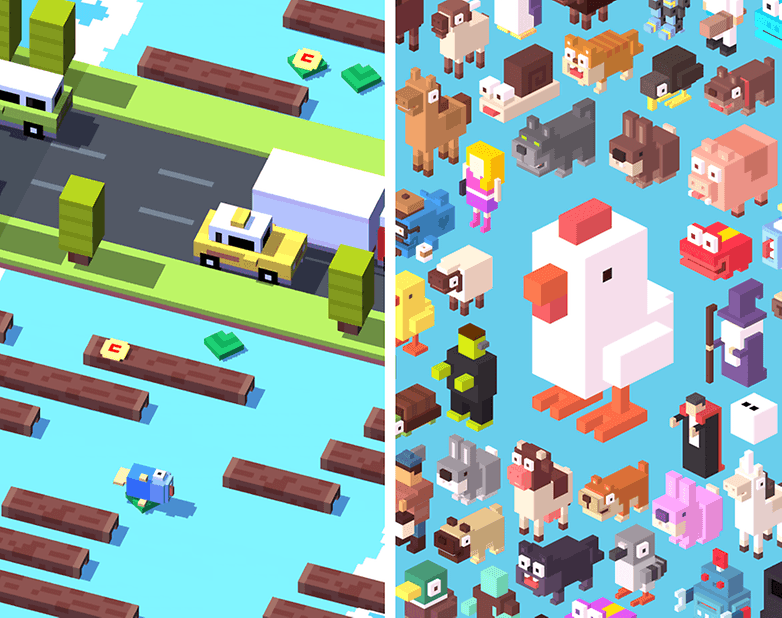 Best free Android racing games
Traffic Rider
The first person motorcycle game that rewards you for close calls. The handling feels realistic and is achieved by moving the device as if it were a steering wheel. The settings are incredibly detailed with a crisp picture even at high speeds.
Once you finish a circuit under the time limit, you unlock a new map. As you progress, you can unlock up to 20 motorcycles with different handling, power and braking.You get extra time for getting close to other drivers, so it pays to take some risks.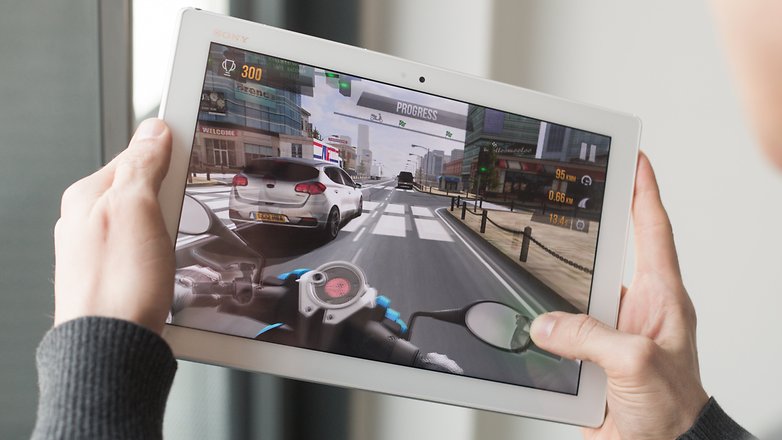 Asphalt 8: Airborne
If you are into racecar driving, look no further than Asphalt 8: Airborne, a favorite arcade game among Android users. Why do we love it so much? It's free for a start, and you get to choose between real-life cars that you've always dreamed of driving – from Lamborghinis to Ferraris – ripping them down courses in various stunning locations.
If you have a competitive streak, you can drive in career mode, which takes you through eight seasons and 180 events.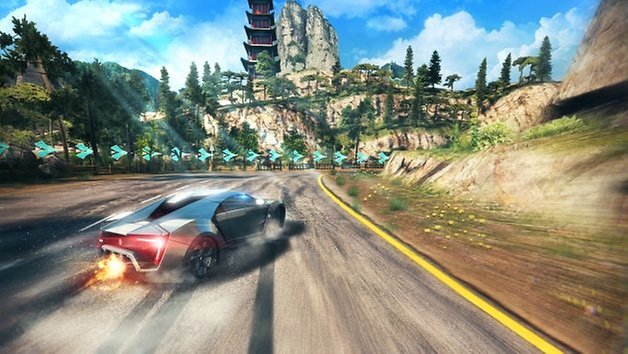 Best free Android sports games
Wrassling
This hilarious and beautifully minimal game sees you control a flailing 'Wrassler' made up of about 20 pixels, competing in an endless royal rumble match. It's all against all in the ring, as opponents keep jumping in, and attempting to throw their rivals out by windmilling their arms around.
The Commodore 64-style graphics and haphazard-looking gameplay make this game both charming and hilarious. As you reach certain scores, you can unlock hats for your wrassler and fight bosses, on your path to becoming the wrassling champion of Slamdovia (the home of Wrassling, apparently).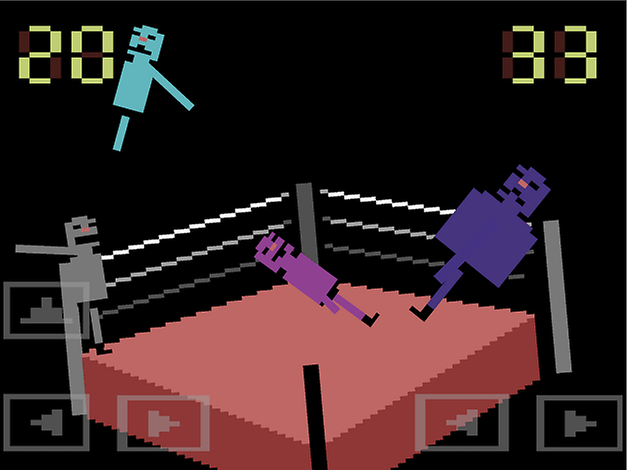 Touchgrind Skate 2
If you want a seriously challenging sports game, Touchgrind Skate 2 is going to keep you busy for a long time with its variety of skate parks, tricks and challenges. Admittedly, if you want to go beyond the bounds of the free version to new areas, you'll need to pay to unlock them, but it's only a few dollars to unlock every location and there's plenty to do in the free version first. You'll definitely want to play that before handing over any money to ensure it's the sort of frustrating challenge you enjoy.
In what should be a simple sounding exercise, you propel yourself along just by holding two fingers on the board and perform a range of tricks that vary in difficulty by placing, sliding, flicking or otherwise moving your fingers in just the right way. But before you get to the more advanced options, you'll want to really nail the basic ollie, flips and grinds, which you can do in the freeplay mode, rather than learn as you go along with challenges.
With realistic graphics rather than the cartoon, retro appeal of so many games now, Touchskate Grind 2 is well worth a look for anyone that wants to spend a really long time mastering a skating game.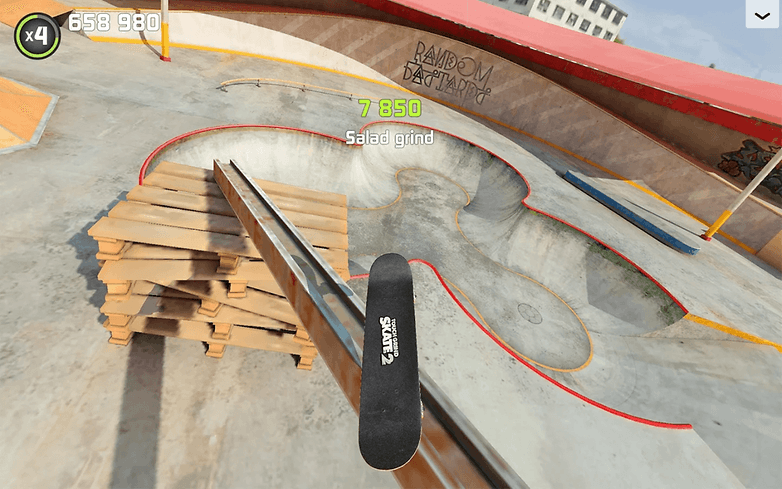 Best free Android RPG games
Final Fantasy: Record Keeper
Despite its clunky menus and the fact it sometimes feels like a loading-screen simulator, Final Fantasy: Record Keeper provides some great Final Fantasy nostalgia. It lets you replay some of the most memorable moments from previous games in the franchise in a bid to restore the records that uphold the kingdom, which are inexplicably fading from existence.
It's a no-frills role player game with energy-based play that lets you build a team of five characters using familiar faces from all over the Final Fantasy universe. There are tons of different weapons, armor and abilities to acquire and customize your characters with, and the retro graphics and music are sure to evoke some favorable memories. Just enter with a little patience, because those loading screens are a blight.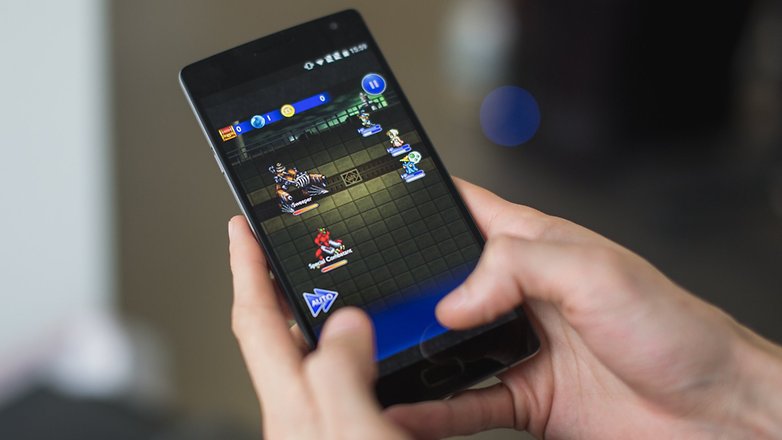 Best free Android quiz games
Words With Friends
This Scrabble clone changes the classic board game from something you sit down and play with your grandparents, to an online experience where you can play several people simultaneously and take your turn whenever you like.
The new version tracks your performance, showing you your scores relative to other people, the longest words you've played, and your overall win-lose record. There is now also an in-built dictionary feature, so next time you gain points with a two-letter word you don't understand, you can find out what it actually means.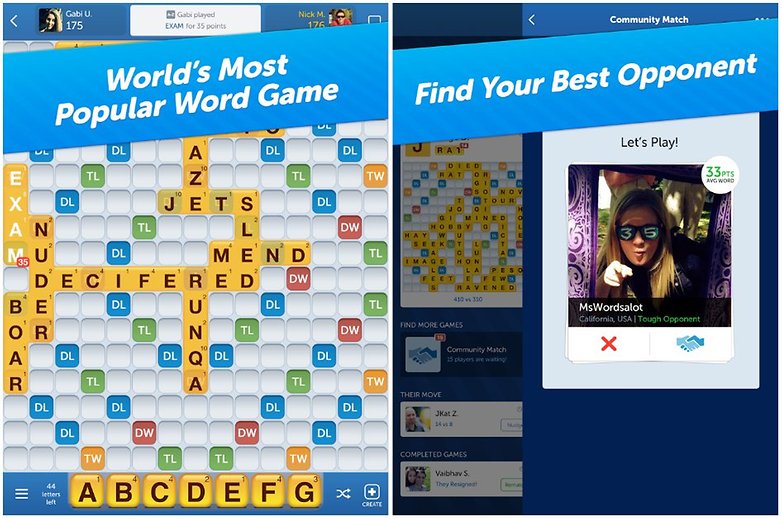 Words With Friends – Play Free


QuizUp
QuizUp landed like a bomb in 2014, revealing that everyone's a sucker for a good trivia game. The sky's the limit for the number of categories, with new ones added daily. It's not just your usual 'sports, films, history' fare either, with categories ranging from Android, to Harry Potter, to Batman. You can also play against others from around the world to compete on the global leaderboards.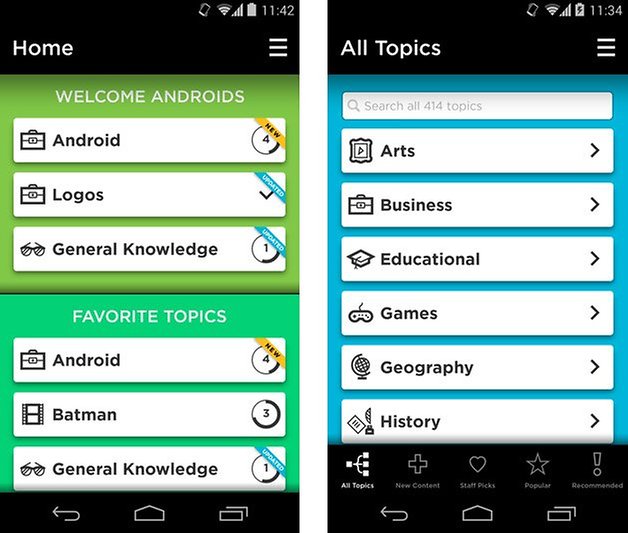 Best free Android multiplayer games
Psych! Outwit Your Friends
If you're a fan of the Balderdash board game, you're going to enjoy Android version you can play at home with friends. In fact, you can only play it if you have a few friends in the room with you.
Each person will need to download the app to play, then input the goofy password displayed on the game leader's screen. Once you've picked a category, each player needs to make up fake answers to real trivia questions and gets points for either picking the correct answer, or successfully selling a lie to one of your friends.
If you end up playing it a lot, you'd probably want to purchase new categories, but it's free to download and you get a few free ones to play around with first.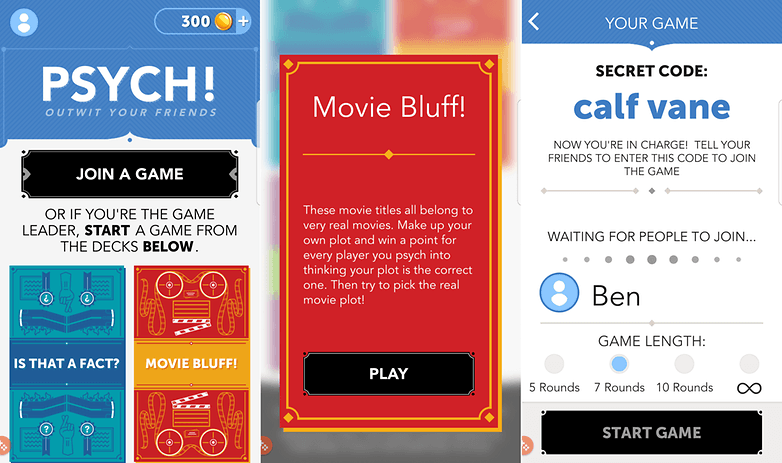 Best free Android endless runner games
Alto's Adventure
Alto's Adventure is an endless runner in which you must guide snowboarder Alto down a treacherous mountain. You're tasked with avoiding crashing on your way down the slope, and you can tap on the screen to jump. The graphics are gorgeous and it's a pleasure to play.
Get it on the Play Store.
Best free Android adventure games
CSI Hidden Crimes
In this CSI game from Ubisoft, as you might expect, you can solve crimes. The title preserves the atmosphere of the show, and the storylines are engaging. In each investigation, you gather clues and put together the evidence. For fans of the TV series and the genre of game, this one is a winner.
Thank you have visited this post Best free Android games of 2017. We wish could be additional information about technology for you